There are some great photo blog hops going on right now! Right now, I am entering two: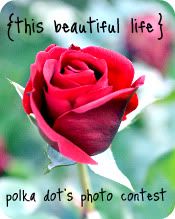 For Polka Dot's photo contest, I am entering this one:
Purple Sun
I took last June while I was up north enjoying the sunrise. Need I say it was the most beautiful morning of my life? God is so incredibly good to have given us this world to live in. For editing, I sharpened, warmed, and saturated it. I think. It was fun to mess around with! :)
~~~~
For Carlotta's photo challenge, themed COLOR, I am entering this one:
Le petit océan
Thanks for looking!
Love,
Margaret
PS- NaNo! Less than 48 hours away!!